Why Antrum
Is your building performing the way it should? Check the data.
Antrum's centralized IAQ monitoring technology provides the real time data you need to optimize ventilation, save on energy and maintenance costs, and ensure your intended results are the ACTUAL results.
Smart Sensing
Saves Energy
Accurate
One sensor for both Outdoor Air (OA) and Indoor Zones, canceling sensor drift. 
Maintainable
Less than one minute to calibrate or replace 16 zones at a time. 
Scalable
Increase sensing capabilities as your building and/or code evolves with a simple sensor pack upgrade. 
Total Cost of Ownership
Reduce total cost of ownership (TCO) for the life of the building.
In Grand Rapids, Michigan—Grand Valley State University facility engineers determine there has to be a better way to execute demand control ventilation.
2010
First iteration of what is now AntrumX is installed at GVSU.
2011

AntrumX IAQ monitoring technology in over 600 rooms and 900,000 square feet.
2019

Antrum is granted exclusive rights to patented technology.
2020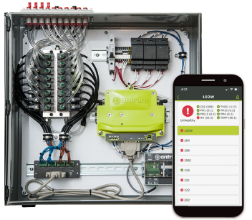 Antrum hires first employees and launches commercially viable IAQ monitoring solution, AntrumX, and software service, AntrumEYE.
2021

AntrumX wins AHR Innovation Award in the category of indoor air quality.
2021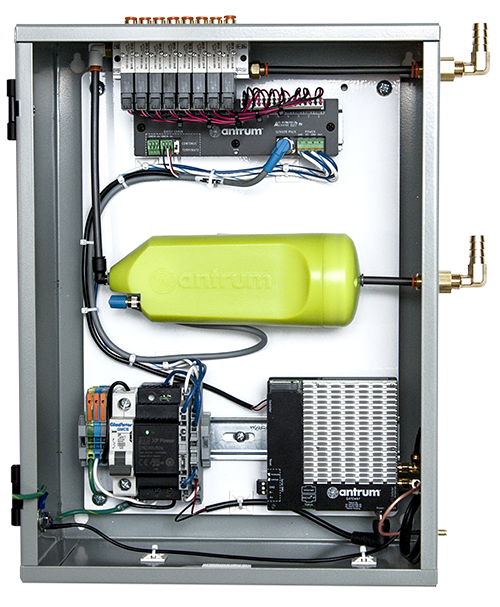 Reduced size of monitoring panel by 50%.
2022
To know your air and become part of the Antrum story, contact us at sales@antrum.com.
Now
Meet Our Team
Adam Donovan
President
Adam Donovan is the founder and President of Antrum. He spends his days working to help building owners everywhere know their air, making strategic decisions that impact every facet of Antrum, from product development to sales and marketing. An experienced executive leader with a technical background, Adam is most passionate about the human side of success, prioritizing communication, relationship building, and developing talent. Outside of work, Adam is active in his church and spends time watching and coaching his four children in multiple sports.
×
Adam DonovanPresident
Jared Lee
Director of Sales
Jared Lee is Antrum's Director of Sales. Using his experience selling complex solutions to owners, engineers, and contractors Jared leads our sales initiatives and supports our network of authorized sales partners. Jared's engineering background and experience with building automation technologies uniquely positions him to consult with our partners on indoor air sensor applications for various markets. Striving to transform the customer experience, Jared builds strong relationships and uses creative thinking and problem-solving to support our partner channel. When not working, Jared enjoys spending time with his family, competitive activities and traveling.
×
Jared LeeDirector of Sales
Ryan Mulder
Director of Engineering
Ryan Mulder is Antrum's Director of Engineering and is responsible for technology strategy and software and hardware product development.  He's experienced in commercial electronics engineering delivering user-focused products through hands-on development, problem solving, and team leadership.  With relentless attention to detail and innovative solutions, Ryan continues to make Antrum's products unique and high value to all customers.  Outside of work, Ryan enjoys playing with his kids, tackling home projects, and hunting.
×
Ryan MulderDirector of Engineering
RJ Vandermate
Senior Software Engineer
RJ Vandermate is a key member of the Antrum engineering team. As a Senior Software Engineer with over 15 years of software development experience, he strives to understand software and their system interactions so he can improve them. RJ uses industry best practices and a variety of programming languages to deliver quality solutions. The lines between work and personal interest may blur sometimes for RJ as he enjoys spending personal time learning new software and tinkering with electronics. He also enjoys hiking, camping, and generally spending time outdoors with his wife and four children, coaching his kid's baseball teams, being active in his church, wrenching on cars, and tackling the various projects around the house.
×
RJ VandermateSenior Software Engineer
James Stein
Regional Account Director
James is a member of Antrum's sales team. James has spent over 15 years in the HVAC industry, the bulk of which at a large HVAC controls manufacturer. James enjoys the challenge of helping end users, contractors, and consulting engineers solve complex problems related to building construction and design. James has experience selling directly to customers as well as supporting equipment representatives at a manufacturers level. It is this experience that allows him to excel as a Regional Account Director, where he is responsible for supporting Antrum's reps in the Western region of the United States and Canada. Outside of work, James enjoys spending time with his wife and kids, traveling, and playing his guitars.
×
James SteinRegional Account Director
Jordan Cummings
Regional Account Director
Jordan is a member of Antrum's sales team. As a Regional Account Director, Jordan is responsible for supporting Antrum's reps in the Midwest region of the United States. He uses his experience working in sales at a rep firm, and as a product manager for a large HVAC manufacturer to better understand and support Antrum's channel partners. Jordan enjoys the personal connection being in sales provides. Outside of work, he enjoys spending time with his wife and kids, as well as playing softball and basketball with friends.
×
Jordan CummingsRegional Account Director
Micah TerHaar
Senior Software Engineer
Micah is a Senior Software Engineer on Antrum's engineering team. With over 20 years of experience developing software on multiple platforms, in a variety of languages and for a wide range of applications, Micah's experience and depth allow us to develop better software more efficiently. His unique expertise in algorithms and machine learning significantly contribute to Antrum's ability to stay current as technology continues to change and evolve. Micah enjoys music, and is a pianist at his church. He also enjoys board gaming and spending time with his wife and kids.
×
Micah TerHaarSenior Software Engineer
Taylor Groll
Director of Operations
Taylor Groll is Antrum's Director of Operations and is responsible for all things operational including supply chain management, panel assembly, and shipping. Taylor is a mechanical engineer by degree, a certified project manager, and has experience in both medical device manufacturing and construction. His background and experience coupled with his leadership skills provide Antrum and their customers with repeatable results resulting in high quality products with an emphasis on continuous improvement. Outside of work, Taylor enjoys spending time with his wife and kids, tackling home projects, golfing, and skiing.
×
Taylor GrollDirector of Operations
Questions? We have answers.